NEW EDITION!
Learn how to integrate this useful prop into your mat class or create a Pilates on the Ball class. See how the use of a physio ball can literally help place the beginner/intermediate student's center of gravity in their core, while challenging the advanced student with additional resources.

Instructor: Bonnie Grove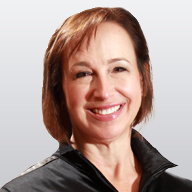 Bonnie began studying Pilates and yoga in 1999 while working part-time as a group fitness instructor in Frederick, Maryland. She was so intrigued by the unique approach of Pilates to the concept of exercise that she decided to pursue her Mat teacher training. Today, after completing over 600 hours of training and obtaining an advanced teacher training from Power Pilates, she works full-time teaching Pilates (mat and apparatus) to clients in both Maryland and Virginia. She also holds a yoga teacher certification from leading vinyasa teacher Shiva Rae.
---