NEW EDITION!
Learn how to incorporate this multi-faceted and useful tool, the Theraband into a mat class; for a fun and challenging workout! This course offers many different ways to use the Theraband during a classical Intermediate/Advanced Mat class. We will go over multiple ways to use the band for each exercise: we will show you how to apply the Theraband to give support and to create awareness, we will demonstrate how to use the band as a tool to challenge by adding resistance to the mat class, and finally we will give you some tips on how to take some exercises to another level. Additional exercises, beyond the mat repertoire, are also part of this workshop.

Instructor: Marcia Hagemann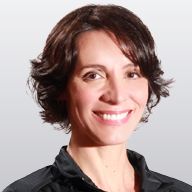 A native from Brazil, Márcia studied classical ballet, as well as Modern Dance, for 26 years. During her studies she was introduced to the discipline of Pilates and was amazed at the benefits achieved through this technique. In Brazil, she trained classical Pilates for 3 years with Cecilia Panelli, an instructor trained by Romana Kryzanowska. After moving to the United States, Márcia attended and completed 600 hours of training in the Power Pilates course under the supervision of Erin Horst, at Evolutions Annapolis, having as Teachers Trainers Juliet Harvey, Alison Laundrie and Bob Liekens.
Márcia has been teaching Pilates since 2003 and opened the Center of Life Pilates Studio in May 2004. In 2006 Márcia became an International Teacher Trainer for Power Pilates, and since then she has been training pilates instructors in Maryland, Virginia, D.C. and at studios in Brazil. Since becoming a Teacher Trainer, she has also been teaching a variety of continuing education courses at Power Pilates conferences.
She has extensive experience in teaching all levels, from beginner to expert, as well as clients with special physical needs. Her goal with each individual is to help achieve enhanced health and happiness through the discipline of Pilates. Márcia is also a Pilates Method Alliance certified instructor.
---