How to help your clients achieve their fitness goals through psychology and behavior coaching. In this workshop, learn the principles of how to go above and beyond exercises and nutrition tips to help clients reach their personal wellness goals. Retain more clients and increase your revenue by adding behavior coaching to your menu of services.

Instructor: Dr. Janine Stichter, Ph. D. and Scott Schutte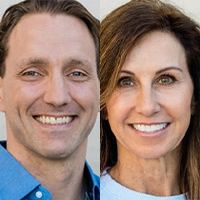 Dr. Janine Stichter, Ph. D. As a behavior strategist with her doctorate in Behavior Analysis, Dr. Stichter uses her understanding of human behavior and its bi-directional relationship with organizational infrastructure to help businesses grow through the power of their people. She emphasizes the importance of emotional intelligence to effectively lead a positive work culture that thrives on growth and transparency. Her approach is unique and specific to each leader and business, resulting in customized outcomes for goal oriented change.
Scott Schutte Scott is a published author, business owner, and fitness and nutrition professional. Since graduating from Westminster College with a degree in business finance, health, and exercise science, Scott has made it his mission to seek out the best mentors and advisers from around the world. Scott has worked with fitness and nutrition experts from Australia, the U.K., and all across the U.S. to learn the truth about holistic fitness, nutrition supplementation, and how the body is affected by food. Scott truly loves making an impact on his clients' lives. He is committed to improving your health, confidence, and happiness. In 2019, Scott co-authored the fitness book "RedeFit - Redefining Fitness" and co-founded a learning platform for personal trainers: Weight Loss Behavior Coaching for trainers. Both of these are systems used by Evolved Personal Training and trainers worldwide to promote healthy living inside and outside the gym.
---